Summary
GrowGeneration has 11 stores in three states.
Company Serves Professional Cannabis Growers.
California Cannabis Market Expected to Grow 18% Annually.
In the California Gold Rush, hotels, restaurants and mining equipment suppliers made a lot of money serving the prospectors. Many gold miners who came to California after gold was discovered in 1849 never made any money searching for gold and moved on. The successful merchants sold picks and shovels. Levi Strauss made a fortune selling rugged jeans to the gold miners. The same is true in the new Cannabis Gold Rush.
Suppliers to cannabis growers are selling millions of dollars of hydroponics and gardening supplies. Scotts Miracle-Gro (NYSE:
SMG
) and GrowGeneration (
OTCQB:GRWG
) are both in the business of selling hydroponics and gardening supplies to growers of marijuana. Already, an estimated 1,000 hydroponics stores are operating in the United States, experts say.
GrowGeneration has nine stores in Colorado, one in California and one in Las Vegas, Nev., plus sells product online. The company has a $25.4 million market cap, and estimated annual sales of $8 to $9 million, based on recent quarterly sales figures. GrowGeneration plans to grow its retail stores to 20 locations in the next 12-18 months.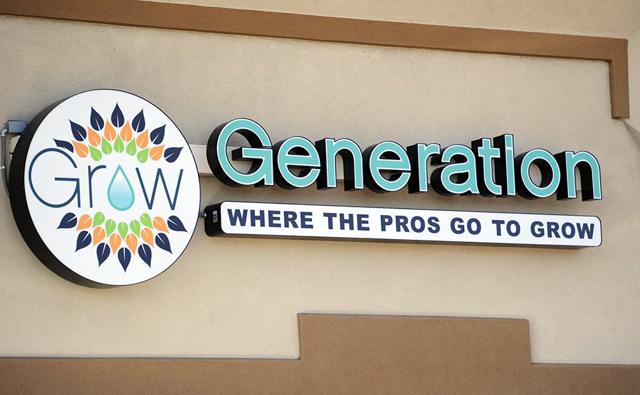 GrowGeneraiton's sales for the three months ended Sept. 30, 2016, jumped to $2,169,129, a 135% increase over revenues of $921,913 in the same quarter of 2015. Revenue for the nine months ended Sept. 30, 2016, was $5,617,726, a 140% increase over revenues of $2,330,773 for the same period last year. The company saw sales growth across Colorado and Northern California, as well as modest, but early sales from the launch of GGEN Distribution Corp., a wholly-owned subsidiary of GrowGeneration, whose sole mission is to secure exclusive and proprietary products on behalf of GrowGeneration.
GrowGeneration President Michael Salaman and CEO Darren Lampert started GrowGeneration in 2014, wrote
BusinessDen reporter
Amy DiPierro. Salaman departed a post as chairman of a powdered beverage company, and Lampert left a career as a securities attorney and stock trader. The two raised $600,000 from friends and family to purchase four hydroponics supply stores from Pueblo Organics and Hydroponics. The company said revenue was $2 million in its first year. Salaman and Lampert took the company public in October 2016 on OTC Markets Group's Venture Market. Salaman said the firm has raised $4 million to date through private investors and public stock offerings.
GrowGeneration is headquartered in Pueblo, Colo., but plans to move to Denver in a new 12,800-square-foot headquarters at Mississippi Avenue and Jason Street in Ruby Hill. Set to open in early March, the new office, retail space and warehouse will be GrowGeneration's 12th store in the country and its second in Denver, reported BusinessDen. Salaman said the business wants to be near Ruby Hill marijuana growers. "We identified over a hundred licensed growers that are within the same zip code," said Salaman, including Colorado Harvest Company.
GrowGeneration recently announced that it has acquired all of the assets of Sonoma Hydro and signed a 5-year lease on an 8,000-square-foot facility in Santa Rosa, Calif. The Sonoma Hydro location, one of the original hydroponic stores in what is known as the Emerald Triangle, will serve as a retail and warehouse location servicing the growing number of both commercial and home growers in the Northern California market.
For Sonoma Hydro, GrowGeneration paid cash in the amount equal to the actual cost paid by seller of the inventories, plus of $300,000, which cash payment shall be allocated (for tax purposes) in the amount of $50,000 to the Fixed Assets and $250,000 to the Intangible Assets. If Gross Revenue for the 12 month period following closing is equal to or greater than $2,300,000, GrowGeneration will deliver 25,000 shares of GrowGeneration to the seller by February 28, 2018, according to SEC filings.
California offers huge growth opportunities for GrowGeneration, particularly after voters passed the adult use cannabis law in November 2016. According to New Frontier Data, the California market projects to grow at a compounded annual rate of 18.5%, from $2.76 billion in 2015 to $6.5 billion by 2020. The Northern California market is particularly important due to the high concentration of cannabis cultivators in the region.
Darren Lampert, co-founder and CEO, said, "Acquiring Sonoma Hydro, one of the original hydroponic retailers in Sonoma County, solidifies and strengthens our position in both Sonoma County and neighboring Mendocino County, both of which are abundant with cultivators. Increasing our warehouse and retail showroom space will allow us to stock at inventory levels and sizes to attract the large commercial growers. With the cultivation licenses being issued this year in Sonoma County, GrowGen is now well positioned to gain new business. California is a major marketplace that the company is developing, and plans to add several locations in the coming months."
GrowGeneration opened its Las Vegas store on Jan. 17, 2017. The company's 11th store, located at 5885 South Valley View Blvd., Las Vegas, NV 89118, is a 10,000 sq ft store, and will serve a wide range of small, medium and large scale commercial growers. Conveniently located minutes from the Las Vegas strip. GrowGeneration Las Vegas is one of the largest hydroponic stores in the Nevada market.
GrowGenation's mission is to become one of the largest retail hydroponic and organic specialty gardening retail outlets in the industry. They are up against big competition. But the industry is growing so fast, there is room for competition.
Hydroponics stores have the ability to introduce people to growing technologies for cannabis. There are a lot of amateurs out there. Marijuana is going from an illegal drug to a legal drug, creating new customers every day. Over half of the United States have laws supporting the sale of cannabis for medicinal purposes and several states have legalized for both medical and recreational sale of cannabis.
GrowGeneration stores sell thousands of products, such as organic nutrients and soils, lighting technology, hydroponic and aquaponic equipment, and other products needed to grow indoors and outdoors. Its strategy is to target commercial growers and smaller growers who require a local store to fulfill their daily and weekly growing needs. GrowGeneration serves a new, yet sophisticated community of commercial and urban cultivators growing specialty crops including organics, greens and plant-based medicines. Unlike the traditional agricultural industry, these cultivators use innovative indoor and outdoor growing techniques to produce specialty crops in highly controlled environments. This enables them to produce crops at higher yields without having to compromise quality, regardless of the season or weather and drought conditions. Its target market segments include the commercial growers in the cannabis market (Dispensaries, Cultivators, Caregivers), the home cannabis grower and businesses and individuals who grow organically grown herbs and leafy green vegetables. Sales at our GrowGeneration stores have been fueled by frequent and higher dollar transactions from commercial growers, individual home growers and gardeners who grow their own organic foods.
GrowGeneration expects significant growth over the next few years, primarily from existing and new stores that it opens or acquires. Its growth is likely to come from four distinct channels: establishing new stores in high-value markets, internal growths at existing stores, acquiring existing stores with strong customer bases and strong operating histories and the creation of a business to business e-commerce portal at
GrowGeneration.com
.
According to New Frontier Data, the U.S. cannabis market was $5.7 billion in 2015 and is expected to have reached $7.2 billion at the end of 2016. By 2020 the market is estimated to reach over $23 billion with a compound annual growth rate of 32%.
GrowGeneration's management believes 15-20% of the revenue derived from retail and medicinal cannabis sales nationally will be invested in hydroponic equipment, lighting, nutrients and other grow supplies. The company is targeting growth in California, Oregon, Washington, Arizona, Michigan, Ohio, Pennsylvania, Maryland, Florida and New England.
Valuation and prospects
At $2.30 per share, GrowGeneration has a market capitalization of $25.4 million. I've seen marijuana companies valued at $25 million with no more than consulting services. GrowGeneration has real assets that are generating real cash-flow.
GrowGeneration had $511,474 cash in the bank and $2.3 million in inventory on Sept. 30, 2016, a total of $4 million in assets. This is a growing business yet in the last quarter the company posted a tiny profit of $10,844. I expect earnings to be modest with the build-out of new stores, but over time I expect these stores to grow into high profit centers. The adjusted grows margin in the most recent quarter was 28.1%. A business can make a lot of profit with margins like that.
The company ended the third quarter with a working capital surplus of $3,218,594. The company raised $1,323,500 in equity capital in 2016, and has raised $4 million since inception.
I believe GrowGeneration will double in size to 20 stores this year and perhaps triple in a couple of years. With cannabis markets growing around the country, GrowGeneration will likely become one of the largest sellers of hydroponics and organic gardening supplies. There is risk from multiple fronts. First, the retail sector is moving to online platforms, the Amazons of the world are taking business away from brick-and-mortar retailers. However, gardening is a specialty business that requires a lot of knowledge. With pot going from illegal to legal, new customers are being created, people who never grew pot before are now eager to try it. Another challenge is the laws surrounding cannabis. I hope we see a reclassification of cannabis on a federal level, but this may not happen during the Trump administration. I expect Trump to let the states uphold their own laws governing the sale and possession of cannabis. More than half of all states in America have laws legalizing medical cannabis, and several have legalized recreational cannabis sales. A big part of GrowGeneration's business is selling equipment to professional growers. The biggest market for weed in the United States is California. With the new store in Sonoma County, GrowGeneration is at the right place at the right time.
Disclosure: I am/we are long GRWG.