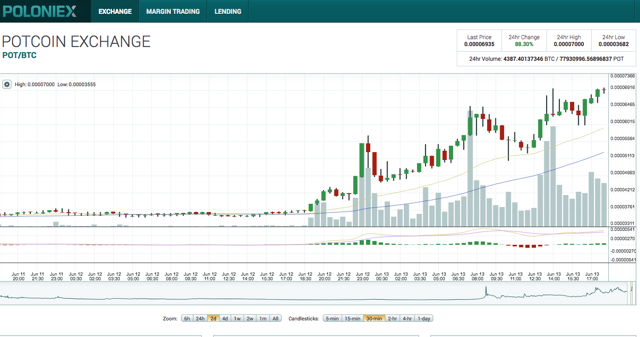 Source: Poloniex
My cost basis was 0.10163820 Bitcoin, worth $276 at the time of the trade. Fee was 25 basis points.
Potcoin recently traded at a price of 0.00006907 BTC X 2770 shares = 0.1913239 Bitcoin, or in dollars $518.00, a return of 87%.
Why did I buy Potcoin? I had a hunch that if pot sellers struggle with so much cash, they would prefer an alternative in a digital currency, which reduces the risk of carrying all that cash.
On its own Web site, PotCoin says, "PotCoin as a digital currency is an alternative payment network for cannabis users, merchants and industry professionals. The PotCoin network allows cannabis enthusiasts to interact, transact, communicate and grow together. PotCoin is a community run effort, by community members for community members."
PotCoins are transferred directly from person to person via the net, without going through a bank or clearing house. This means that the fees are much lower, you can use them in every country.
Why was PotCoin trading up 83% on Tuesday. Well, early that morning Potcoin.com reported it was sending Dennis Rodman back to North Korea. Rodman said he wanted to promote sports and peace. Rodman knows both President Donald Trump and Kim Jong-un.
That's great, but North Korea and South Korea have been enemies for over a half-century. I appreciate Dennis Rodman trying to promote peace between North Korea, United States and South Korea, but I am not confident anything will change as a result of his trip. Even if he does accomplish something over there, his efforts will take time.
Does Rodman's trip sponsored by PotCoin.com justify an 83% climb in PotCoin? This sounds like a selling opportunity.
So I sold all my Potcoin at 0.00006619 Bitcoin, an 80% return after fees.
Shortly after selling my lot, the price of Potcoin fell 10%. I'm not surprised. The market cap on PotCoin is $38 million, and there were $14 million in volume of PotCoin in the past 24 hours, Tuesday's volume accounts for about a third of the market cap. I expect the Rodman news to wear off pretty quickly and by Thursday, this momentum play will be over.
I think PotCoin has a good idea, to serve the cannabis community. I hope it is successful. I will be watching its price, I may buy this cryptocurrency again.
But for now, my trade is booked and I will have to pay taxes on this short-term gain, when I file my 2017 tax return.
Cryptocurrency is the wild west of trading. Sales are completed in minutes, compared with stock trades' settlement in three days. On Poloneix, a person can do margin trading and lending. I could see people getting hurt if you are not careful. Market caps are small on some currencies, meaning a lack of volume could result in price declines. I have put about 1 percent of my wealth in the cryptocurrency space, in Bitcoin and Ethereum. Gains can be quickly taken away by market conditions. PotCoin's sponsorship of Rodman going to North Korea is laudable, but I don't think it justifies an 83% bump in price, so I'm out.
Disclosure:
I am/we are long BITCOIN, ETHEREUM.
Additional disclosure: I may buy back PotCoin at a lower price
\